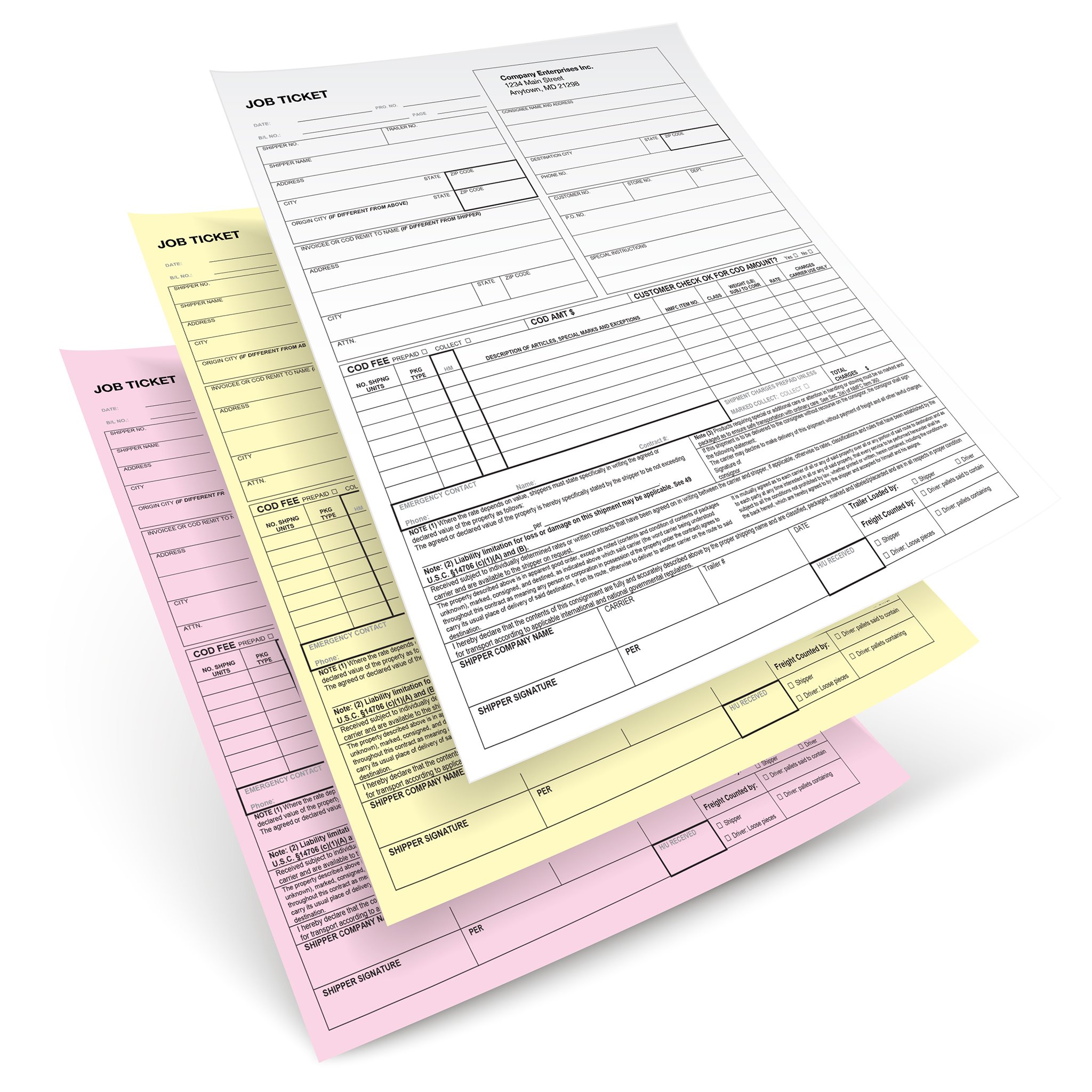 or drag & drop file here
Your File
Number of Ink Colors:
Front side
or drag & drop file here
Your File
Number of Ink Colors:
Back side
NCR Forms Printing
Choose from 2-part, 3-part, or 4-part Carbonless Copy Forms

Choose from black or full color printing

Print on front only or front and back

Form numbering available
What file types can my artwork be?
You can upload files in the following formats: JPG, PDF, EPS, TIFF, PS (PostScript)
Make sure that your PDF file is saved directly from your graphics program in standard PDF/X format (PDF/X3 or PDF/X1a). To avoid problems with layers and transparencies during the printing process, it is recommended to use the "1.3 compatibility" setting when saving artworks.
If you are sending TIFF files, be sure to reduce the number of layers to one.
To avoid problems with color variation or printed image, please do not use pre-separated data from DCS EPS.
What resolution should my files be for printing?
When printing, 300 PPI is the best print resolution for digital printers. The design of a file with a resolution below 300 PPI will result in blurring and pixelization. On the other hand, you should not design with a resolution higher than 300 PPI. As far as the eye can see, there will be no difference in print quality. It will also make your file much larger (increase file upload/transfer time).
We always recommend 300 PPI drawings to print, but we also know that sometimes you do not have the ability to edit your drawings. If you cannot print your files with a resolution of 300 PPI, you will have to take some measures to ensure that a lower resolution works for you.
We recommend that you set the resolution in your graphics editor (i.e. Photoshop) to 300 PPI before you start drawing your file. Increasing the resolution after the start will still result in blurring/pixelation.
How are my artworks checked?
All the work is checked by our team before printing. If we have any problems with the files, we will contact you and advise you how to change the format. Please note that conversion of both color and size mode will be done automatically without prior information.
During the analysis of the illustrations, we check
– if the files are presented in one of the accepted formats (PDF, JPG, TIFF, EPS or PS). – if the number of pages is correct – if the file supplied is greyscale (only if you have ordered a color print) – if the file is the right size (otherwise we will scale your work to the desired size, however, this may result in a reduction in resolution. No additional bleeding will be added to the process either). – if the drill lines have been specified – if the appropriate fonts have been incorporated into the file.